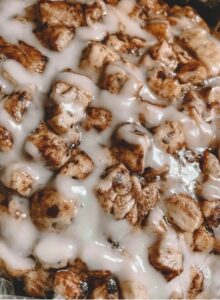 Hello friends! I am so excited to share this dessert and/or breakfast treat that is so delicious: slow cooker cinnamon rolls! This is such an easy recipe, but everyone will love it…I mean how could you not! This is easy for the baker and easy on the taste buds. This makes a large amount of servings. Depending on if this is a dessert, a side dish during brunch, or the main breakfast casserole…the amount of mouths you could feel with this will vary! It is very sweet and full of yummy goodness.
Ingredients
3 17.5 oz cans of cinnamon rolls
1/2 cup of granulated sugar
1/2 cup of brown sugar
1 teaspoon of ground cinnamon
5 large eggs
1 cup whole milk
1/4 cup maple syrup
Directions
Prep your slow cooker with a slow cooker bag…these things are amazing and will help so much with clean up!
Grease the slow cooker bag
Cut cinnamon rolls into quarters and add to slow cooker
Add sugar, brown sugar, and cinnamon
Stir
In a separate bowl, whisk together the milk, eggs and maple syrup
Pour this over the cinnamon rolls and mix together
Top with 1 can of the icing and cook on low for 5-6 hours
Cover with the remainder of the icing and enjoy!
Thank you so much for visiting the blog! As you know, this is an ad free blog thanks to your support on my commissionable links. If you need a new kitchen item, here are all of my kitchen essentials.