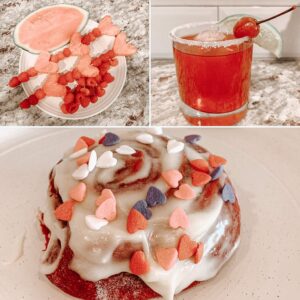 Hi all!! It is Sarah Bowmar here and I am stopping in to share some of the Valentine's Day recipes I tried out this year! I wanted to get this post up as soon as possible so that everyone could have time to get all of the ingredients they would need to make these tasty treats!! The ingredients and directions for each recipe can be found below!
Bourbon Cherry Crush
Ingredients: (per 1 drink)
1 shot of bourbon (the type of bourbon is totally up to you! If you aren't super into bourbon, then try crown apple with this…it adds extra flavor and is a great flavored bourbon for those that wouldn't pick bourbon as their first choice!)
3/4 shot of grenadine
3/4 shot of maraschino cherry juice
2 TBSP of lime juice
1/2 cup of club soda
Sugar, limes and cherries for garnish
Directions:
Fill a shaker cup with ice cubes, bourbon, grenadine, cherry juice, and lime juice. Shake to combine.
Prepare the glass with the sugar rim. For the sugar rim- get the top rim of the glass wet, place sugar on a plate, dip top rim of glass into the sugar to get a beautiful sugar rim! Add a slice of lime and a cherry for garnish!
Pour the drink mixture (without the ice cubes) into the glass.
Add a shaped ice cube for an extra fun touch! I linked the large cube and sphere ice trays that I use from amazon!
Watermelon & Raspberry Fruit Kabobs
Ingredients:
1 mini watermelon
1 package of raspberries
Kabobs
Heart shaped cookie cutter
Directions:
Slice water melon into flat circular shaped slices
Place cookie cutter into watermelon and press down
Each watermelon slice should make about 4-5 heart cut outs
Remove seeds
Place one water melon on the kabob, followed by 3 raspberries. Repeat until the kabob is full
Repeat this process until the fruit has all been used!
Red Velvet Cinnamon Rolls
Ingredients:
For the dough- 1 package of red velvet cake mix, 1/4 oz active dry yeast, 2.5-3 cups of flour, 1.25 cups of warm water
For the filling- 1/4 cup butter melted, 1 TBSP ground cinnamon, 1/2 cup of brown sugar
For topping- 4 oz cream cheese (softened), 2 cups powdered sugar, 1 tsp vanilla extract, 1/4 cup butter softened, valentine's sprinkles
Directions:
To make the dough-
In a large mixing bowl, combine red velvet cake mix, yeast, and 1 cup flour
Add warm water and beat on medium for 2-3 minutes
Add additional flour and knead with mixer or by hand to form a soft dough (hint…it will make your life a lot easier if you get a KitchenAid mixer!)
Spray a large bowl with non-stick cooking spray and place dough inside
Cover bowl with plastic wrap and let it rise in a warm place for an hour (it should double in size)
To make filling-
In a small bowl, mix brown sugar and cinnamon
After the dough rises-
Place dough on a surface (put flour down first!!) and roll out the dough into a rectangle. This should be about 1/4-1/2 inch thick
Spread the melted butter all over the inside of the dough and sprinkle with the filling mixture
Roll the dough into a log
Cut into 12 equal pieces
Place cinnamon rolls into a 9 x 13 baking pan (first spray plan with non stick cooking spray)
Cover with kitchen towel and let rise for another hour
Preheat oven to 350
Bake cinnamon rolls 15-20 minutes or until lightly browned
To make the topping-
While the cinnamon rolls are in the oven, add the cream cheese and butter into the bowl until it is fluffy
Add the powdered sugar and vanilla extract and mix until combined
Spread the icing over the warm rolls
Sprinkle the rolls with Valentine's sprinkles to help stick to your theme!
I hope that you all enjoy these recipes as much as I did!! The cinnamon rolls take awhile but the taste is worth it! And it could be a fun activity to involve your kids in as well! Let me know what you think or if you have any questions!
Thank you so much for visiting the blog! As you know, this is an ad free blog thanks to your support on my commissionable links. If you need a new kitchen item, here are all of my kitchen essentials.